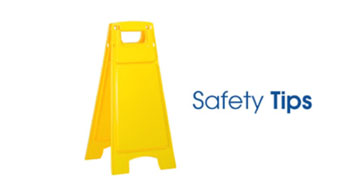 Safety Tips
Sign on the card immediately on the receipt.
Always sign the card with a ballpoint.
Never leave your card unattended at a shop or restaurant.
The moment you get your credit card, note down the card number and emergency contact number. If you ever misplace your card or it gets stolen, it will be possible for you to immediately report a loss.
For security reasons, we advice you to keep a photocopy of the front and back side of the credit card with you.
Keep the call center number in a place other than wallet that nests your card. If your wallet gets picked, you won't have to frantically hunt for the emergency number.
When going abroad, make note of the card company's (VISA/MasterCard) emergency number abroad.
Report lost or stolen cards immediately.
Try and memorize the PIN instead of note it down somewhere.
Don't lend to your card to anyone. Be well aware of who has access to your cards. If your credit card is borrowed by a family member with or without your knowledge, you are responsible for their purchase/cash withdrawal.
Please do not share the CVV number of your credit card to anyone or any shop for purchase.
Whenever you present your credit card to any merchant, make sure that he/she does not charge you twice.
Avoid credit card schemes. When you give your credit card to a merchant, he/she can insert your credit card in a small machine and extract all information for the magnetic strip. Then they can make another credit card with this information and use it fraudulently.
If possible, keep your credit card away from wallet or purse.
If someone calls and claims that they are from your bank, never give the credit card number to them over the phone. Call your bank back and provide the number, if it is really needed.
Before giving a credit card to merchant over the phone makes sure you can trust them. Make sure they have a website and have provided physical contact information, they are reputed, and properly licensed. Check whether they participate in the better business bureau.
Store your credit card statements safely. When they are no longer needed, shred them.
If you change your address, inform your bank immediately.
Check your credit card statement every time you receive it, and make sure there are no unauthorized charges.
Never write your account number or PIN on the outside of an envelope or postcard.
Make a list of card numbers, expiration dates, and the toll-free numbers of your credit card companies. Keep this record in a safe place, separate from where you keep your cards. Use this information if you ever have to report your cards lost or stolen.
Credit Card is equivalent to cash, so please be concerned about your card and keep it in safe custody.
Please do not disclose any secret information like PIN, CVV numbers & card expiry date to any person even Bank officials.
Please pay your dues directly to any of our branch, not to our agent or staff
To make smooth transaction in abroad please inform us to enable foreign part prior to start & after return call us to disable it to avoid misuse of your card
To avoid your card scheming please make sure your card swap in front of you while POS transaction.
If you are not receiving transaction alert SMS, please mail us with your registered mobile number & your present credit card number.