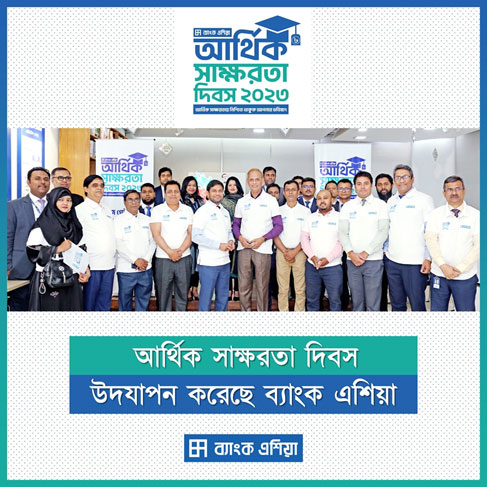 ব্যাংক এশিয়া লিমিটেড গ্রাহকদের আর্থিক বিষয় ও সেবা সম্পর্কে সচেতনতা বৃদ্ধির লক্ষ্যে বিভিন্ন কর্মসূচী পালনের মধ্যে দিয়ে প্রথমবারের মতো আর্থিক সাক্ষরতা দিবস উদযাপন করেছে। ব্যাংকের উপ-ব্যবস্থাপনা পরিচালক জনাব মোঃ সাজ্জাদ হোসেন এবং জনাব মোহাম্মদ জিয়াউল হাসান মোল্লা ০৬ মার্চ ২০২৩ তারিখে রাজধানীর কারওয়ান বাজারস্থ ব্যাংক এশিয়া টাওয়ার শাখায় আর্থিক সাক্ষরতা দিবসের কর্মসূচী উদ্বোধন করেন। দিনব্যাপী কর্মসূচির মধ্যে ছিলো, আর্থিক সাক্ষরতা বিষয়ক আলোচনা, আর্থিক সাক্ষরতার গুরুত্ব নিয়ে নির্মিত ভিডিওচিত্র প্রদর্শন, গ্রাহকদের জন্য সচেতনতাবৃদ্ধিমূলক কুইজ এবং অংশগ্রহণকারীদের মধ্যে পুরস্কার বিতরণ। যশোর, বগুড়া, সিরাজগঞ্জ, মুন্সীগঞ্জ, রাঙ্গামাটি ও কেরানীগঞ্জে ব্যাংকের বিভিন্ন শাখা ও এজেন্ট পয়েন্টে একযোগে এ কর্মসূচী পালিত হয়।
আর্থিক স্বাক্ষরতামূলক কর্মসূচীর অংশ হিসেবে ব্যাংক এশিয়া এ পর্যন্ত দেশ ব্যাপী ২১০৪ টি কর্মসূচীর মাধ্যমে পুরুষ ও নারী কৃষক, মাইক্রো-মার্চেন্ট, গার্মেন্ট শ্রমিক, স্কুল শিক্ষার্থী সহ ১,০০,০০০ (এক লক্ষ) এর অধিক প্রান্তিক জনগোষ্ঠিকে আর্থিক স্বাক্ষরতা বিষয়ক প্রশিক্ষণ প্রদান করতে সক্ষম হয়েছে।
বাংলাদেশ ব্যাংকের আর্থিক সাক্ষরতা নির্দেশিকা অনুসারে, প্রতি বছর মার্চ মাসের প্রথম সোমবার আর্থিক সাক্ষরতা দিবস পালিত হবে।
Bank Asia Limited has celebrated the Financial Literacy Day for the first time by arranging different types of consumer engagement activities, aiming to build awareness and knowledge on financial literacy. Deputy Managing Directors of the Bank, Mr. Md. Sazzad Hossain, and Mr. Mohammad Ziaul Hasan Molla, inaugurated the program at Bank Asia Tower Branch in Karwan Bazar of the capital on 06 March 2023.
The day-long program includes discussions on highlighting the importance of financial literacy, showcasing audiovisuals created on the topic, engaging customers with a quiz app to raise awareness and distributing prizes to the participants in branches as well as agent outlets of the bank. The program was simultaneously observed at various branches as well as agent points in Jashore, Bogura, Sirajganj, Munshiganj, Rangamati and Keraniganj.
As part of financial literacy drives, Bank Asia has so far been able to provide financial literacy training to more than 1,00,000 (one lakh) marginalized people including male and female farmers, micro-merchants, garment workers and school children by arranging 2,104 events across the country.